Newmarket Hotel Restaurant
34 Inkerman St, St Kilda - Australia
+61 3 9810 0087
Upon entry you are greeted by a light infused bar and dining room with an airy outdoor beer garden complete with cosy corner banquettes and planters for shade. The indoor dining areas are intimate and set within grand arches where diners are seated on seventies "tub" chairs.
Towards the rear of the venue you will find our Chef's Table, constructed from slabs of timber recycled from the Princes Pier. The Chef's Table provides a semi-private space for groups of 12-18 guests, situated underneath a suspended chandelier of hanging chillies, garlic and artichokes.
Concerning the menu:
The menu offers a lot of dishes with spanish names such as Courgetta de Lomo, Pulpo con la papa, Quesadilla, Alfajores, Tres leche, Carne asada... An interesting selection that appeals to a broad spectrum of clients. On the wine list, you will be happy to find a few french wine bottles such as a Sauvion Dilection 100% Cabernet Franc with its nice backbone, bright cherries, minty oil and lifted oregano or Le Chat Noir Rosé from the cool Aude Valley in southern France, this Rose is sweetly perfumed with aromas of strawberries and rose petals. The palate is simply elegant with light berry and candied fruit drop flavours lingering in the mouth finishing with a soft dry finish. We noticed also Pipsqueak Apple Cider made by Little Creatures Brewery in the Yarra Valley.
17 beers taps, large range of exotic cocktails served individually or in pitchers, sip on a beverage in a good ambience. Happy hours Monday to Saturday from 4pm to 7pm.
Category: Restaurant / Bar
Price range: Au$5.00 ~ Au$90.00
Monday: 12:00pm - 1:00am
Tuesday: 12:00pm - 1:00am
Wednesday: 12:00pm - 1:00am
Thursday: 12:00pm - 1:00am
Friday: 12:00pm - 1:00am
Saturday: 12:00pm - 1:00am
Sunday: 12:00pm - 1:00am
We speak:
This page is available in English | Vietnamese
Visit at: http://newmarketstkilda.com.au/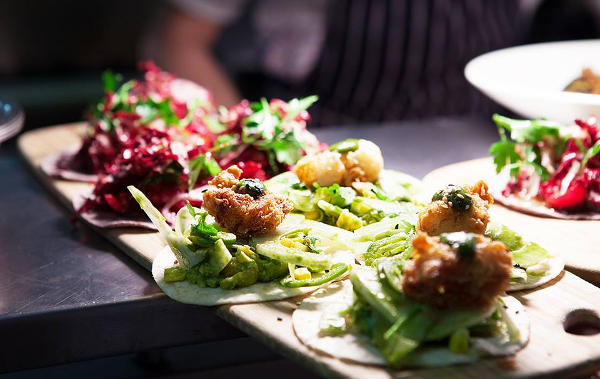 Manage this page
If you are the owner of this establishment/page/article, you can get access to a management and analytics dashboard, improve your rank and launch ads campaign. Update your page now>>>
How to find Newmarket Hotel Restaurant
Newmarket Hotel restaurant is close to Mr Wolf serving thin crust pizzas, lively salads and beautiful oven braises, if you like Thai cuisine you may try Kwan's Table or Derby Thai St Kilda. At just a few minutes walking, there is Harper's Kitchen if you want to taste to three beans and fetta burger :)
An easy way to find his way - The Map
Customers and Users review