JD's Burgers
17 Hamilton Street, Mont Albert VIC 3127 - Australia
+61 3 8590 6448
"What does JD's stand for?" J stands for Japan and D stands for Daniel. Daniel is the Entrepeneur & Founder behind JD's Burgers, founded in August 2014.
Bored of the Same Old Burger Scene? Daniel thought so too. Thus, JD's Burgers was born. Strongly inspired by Japanese Culture, Cuisine & Lifestyle - Daniel decided to do something adventurous that no one has ever dared do before - A Truly Unique Selling Point:
The Fusion of The Best - Japanese Cuisine with an American, Australian, Korean, Hong Kong, Thai, Indonesian & Taiwan Eastern & Western Fusion Cuisine Concept & Execute the many Traditional Recipes & Modify them all into a Fluffy French Brioche Bun that truly offers a Unique & Honest Asian Fusion Burger Experience that will knock your senses out.
Daniel grew up in a Multicultural City with so many cultures fused into one country, is what really made JD's Burgers possible. JD's Burgers is not just a business concept, but rather Daniel's personality transformed into a delicious product & menu.
The burger choices are amazing. There are the Super Saiyan, the King Kai and also the Vegeta burger. DBZ fans will appreciate lol.
Come in & Knock your Tastebuds Out & Try The Asian Fusion Burger Experience Now!
Category: Fastfood / Snack
Price range: Au$12.90 ~ Au$27.40
Monday: 4.00pm - 9.00pm
Tuesday: 4.00pm - 9.00pm
Wednesday: 4.00pm - 9.00pm
Thursday: 4.00pm - 9.00pm
Friday: 4.00pm - 9.00pm
Saturday: 12.00pm - 9.00pm
Sunday: 12.00pm - 9.00pm
We speak:
This page is available in English | Vietnamese
Visit at: http://jdsburgers.com.au/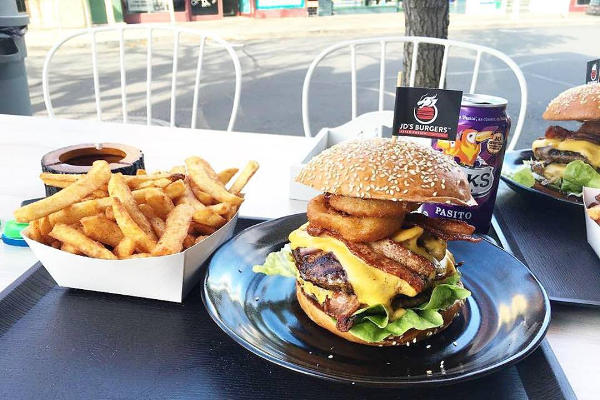 Manage this page
If you are the owner of this establishment/page/article, you can get access to a management and analytics dashboard, improve your rank and launch ads campaign. Update your page now>>>
How to find JD's Burgers
JD's Burgers is close to Churchill Cafe and Larder, Cantina Centrale serving pizza, pasta and charcuterie platters, and Grill Work (Mont Albert).
An easy way to find his way - The Map
Customers and Users review