Flower Drum Restaurant
17 Market Lane, 3000 Melbourne, Australia
+61 3 9662 3655
In 1975, Gilbert Lau opened The Flower Drum in Chinatown on Little Bourke Street. What began as a humble desire to serve good Cantonese food to the people in Australia soon grew to be a reputable restaurant that sent food critics into an excited flurry. Gilbert's high standards for both himself and his staff allowed Cantonese cuisine to penetrate the tough Australian food market, ultimately establishing a Chinese restaurant that would rival the dominant European cuisines.
A decade later, Flower Drum moved from its initial premises in Little Bourke Street to its current location, at 17 Market Lane to accommodate a growing clientele with a more spacious dining room. It was also during this time that Chef Anthony Lui was appointed Executive Chef, a position he still holds today.
Flower Drum offers private dining to accommodate guests from 12 up to 50 for functions and events with menus created specifically to meet individual needs. With two rooms on offer, the private rooms are ideal for business functions, birthdays or family gatherings.
Concerning the menu:
A large selection of chinese dishes such as Dim Sum, Quail Sang Choi Bao, lamb spring rolls, Crab and fish Maw soup, crayfish, sea scallops, Peking duck, Sichuan pork, braised Wagyu cheek, Yeung Chow fried rice, Singapore noodles...
Flower Drum offers also an important choice of wines and beers including 2 chinese wines, Kweichou Moutai and Wuliangye.
Category: Fine Dining
Price range: Au$4.00 ~ Au$650.00
Monday: 12-3pm / 6pm-11pm
Tuesday: 12-3pm / 6pm-11pm
Wednesday: 12-3pm / 6pm-11pm
Thursday: 12-3pm / 6pm-11pm
Friday: 12-3pm / 6pm-11pm
Saturday: 12-3pm / 6pm-11pm
Sunday: 6pm-10.30pm
We speak:
This page is available in English | Vietnamese
Visit at: http://flowerdrum.melbourne/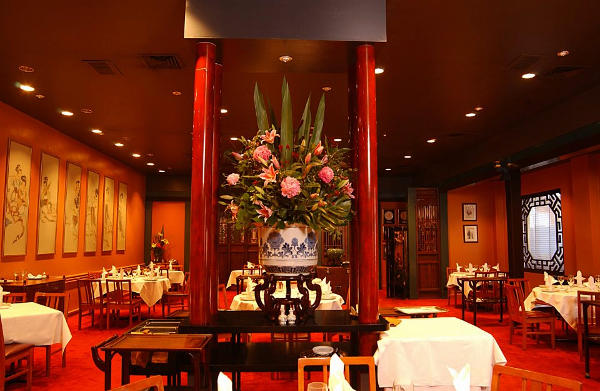 Manage this page
If you are the owner of this establishment/page/article, you can get access to a management and analytics dashboard, improve your rank and launch ads campaign. Update your page now>>>
How to find Flower Drum Restaurant
Flower Drum is close to Hofbräuhaus restaurant the best place for Bavarian food, Bier, fun and fröhlich in Melbourne, Gyoza Gyoza, a japanese izakaya and The Croft Institute, a trendy bar offering cocktails in a playful science lab-themed space.
An easy way to find his way - The Map
Customers and Users review