City Orchids Garden
119 Little Bourke St, Melbourne VIC 3000
+61 396 623 591

City Orchids Garden is a nice restaurant with a good ambience. Staff is quick, efficient and always with a smile.
UNLIMITED DUMPLINGS for $19.90 (every Monday evening from 5.30pm to 11pm) How many dumplings can you eat (including sour and sweet dumplings)?
Concerning the menu:
The menu offers a lot of dishes such as Peking Style Slow Cooked Lamb, Malaysian beef curry, Chicken San Choi Bao, spring rolls, roasted Shredded Chicken Wraps, Peking Duck San Choi Bao, Pak Choi, Kung-Po Chicken, Calamari Spicy Salt & Chili, king prawns, crispy duck, satay, Szechuan Beef...
The Golden Banquet (min 2 pers) is available at Au$68 while the Orchid Banquet is offered at Au$38 without forgetting the UNLIMITED DUMPLINGS for $19.90.
Category: Restaurant / Bar
Price range: Au$5.00 ~ Au$95.00
Monday: 11.30am - midnight
Tuesday: 11.30am - midnight
Wednesday: 11.30am - midnight
Thursday: 11.30am - midnight
Friday: 11.30am - 1:00am
Saturday: 11.30am - 1:00am
Sunday: 11.30am - midnight
We speak:
This page is available in English
Check availability or/and Book now >>>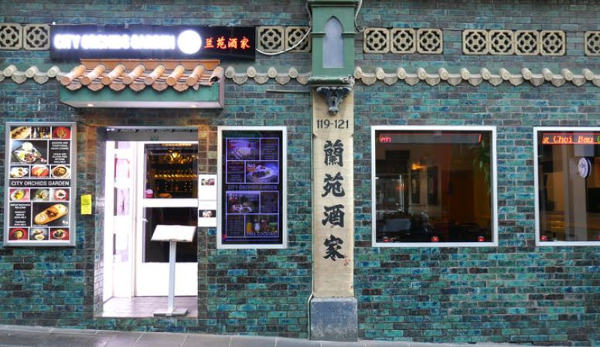 Manage this page
If you are the owner of this establishment/page/article, you can get access to a management and analytics dashboard, improve your rank and launch ads campaign. Update your page now>>>
How to find City Orchids Garden
City Orchids Garden is close to the Chinese Mission church, Shark Fine House, the japanese restaurant Gyoza Gyoza and the famous Bavarianbrasserie Hofbräuhaus.
An easy way to find his way - The Map
Customers and Users review