Koko Black
Shop 4 Royal Arcade 335 Bourke Street Melbourne VIC 3000
+61 396 398 911
5183
16.12/20
Score and review left by our investigators or Insiders
The journey began in 2001 as the founder Shane Hills set off to discover the essence of chocolate, which he felt was not being fully expressed. Shane travelled to Solingen in Germany to learn the art of chocolate making from the bean and more, and then onto Bruges in Belgium where he was introduced to Dries Cnockaert, a very passionate and talented chocolatier. Inspired by Shane's dream and with his own desire for adventure, Dries moved to Melbourne to help create the start of a chocolate signature.
Most of the handmade chocolates, blocks and bars are gluten free; however as a precaution Koko Black states that all products may contain traces of gluten, due to the environment in which the chocolates are made. Visit the shop to find out which products do and do not contain gluten.
Category: Chocolaterie / Chocolatiers
Price range: Au$2.30 ~ Au$140.00
Monday: 9am - 5:30pm
Tuesday: 9am - 5:30pm
Wednesday: 9am - 5:30pm
Thursday: 9am - 5:30pm
Friday: 9am - 7:00pm
Saturday: 9am - 6:00pm
Sunday: 10am - 6:00pm
We speak:
This page is available in English
Visit at: http://www.kokoblack.com/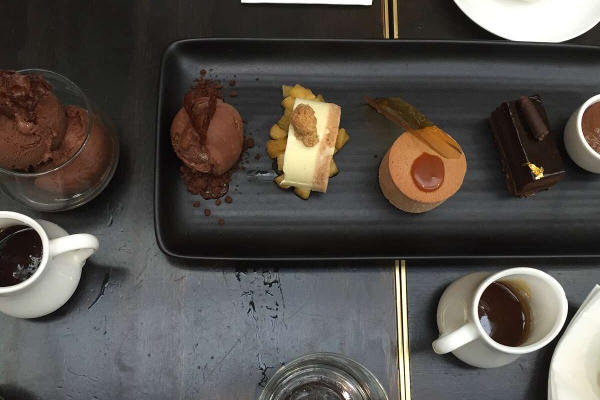 Manage this page
If you are the owner of this establishment/page/article, you can get access to a management and analytics dashboard, improve your rank and launch ads campaign. Update your page now>>>
Megavina's review:
Koko Black
Megavina's Investigators have visited Koko Black located at the Royal Arcade in Melbourne, they ordered a selection of cakes/sweets, they checked the cleanliness and how the staff interacted with clients. Our investigators work anonymously, the best way to get real and objective reviews because the staff and the managers don't know that we are investigating.
Gorgeous chocolate selection
- by

Megavina Travel

- Koko Black visited October 22, 2016





Great atmosphere and lovely staff, as well as beautifully presented desserts. Worth a visit when you go shopping in this beautiful Royal Arcade.

We tried the dessert platter and the hot chocolate. The hot chocolate was rich and delicious, and the desserts presented on the platter were diverse and interesting, nothing to complain. It's such a chocolate heaven!

If you are a chocolate lover, you may try the milk salted caramel, it goes perfectly with an earl grey tea! Koko Black is a great place to buy a love one a delicious box of chocolates. The 6 Piece Gift Box costs Au$17.50 (which is probably overpriced despite of the quality of the chocolate) while the 16 Piece Gift Box is at Au$39.50, the 36 Piece Gift Box at Au$78.50 and the Grandmaster gift box including 64 pieces it at Au$140. We especially love coming here around Christmas and Easter. A chocolate gift which always gives pleasure!

Arguably Koko black is probably the best chocolate in Melbourne. Their chocolate are silky smooth and full of flavour. They have a large selection to choose from which is great!
The Importance of Business Transparency
Transparency is assurance, honesty and describes high-quality services provided by Megavina. The full Catering and Hospitality report is only available for the third person / the franchisor / the supplier / the factory or the travel agency who purchased this investigation, if you are the owner of a visited establishment, please contact us to get an access to a dedicated dashboard.
Customers and Users review