Ultimate Aussie Wildlife Tour
Visit Penguin Island for Penguins, Pelicans, Sea Lions and often Dolphins whilst enjoying the amazing views. After lunch, head to Caversham Wildlife Park for Kangaroos, Koalas...

Your tour departs Perth by 8.30 in the morning and heads to Penguin Island down in the Shoalwater Marine Reserve, south of Perth. Penguin Island is a unique nature reserve that is home to Western Australia's largest colony of little penguins - the smallest species of penguin in the world. Penguin Island is blessed with beautiful beaches and is surrounded by dazzling, crystal clear waters and also hosts WA's largest colony of Pelicans. The little penguins are very shy and can be difficult to see in the wild but you can get up close and learn all about them with the rangers at the Penguin Discovery Centre. You will get to see them swim and eat fish in their purpose built sanctuary.
Aboard a glass-bottom boat you will tour round the Shoalwater reserve to spot Sea Lions sunbathing on the beach and often see Dolphins playing in the bay. This is followed by lunch at Pengos cafe with food chosen from a menu and cooked fresh for you. After lunch you will be transported to Perth's most highly rated Wildlife experience - Caversham Wildlife Park. Located inside Whiteman Park, Caversham Wildlife Park is Perth's premier wildlife experience and a must-see on any visit to Perth. Hand-feed the Kangaroos, join in the interactive farm show, touch a Possum or Lizard, meet a Wombat, and have photos taken with Koalas as you stroke them.
Whilst in Caversham you will also have the chance to watch a live Australian Farm Show - watch sheep shearing, crack a stock whip, milk a Cow, bottle feed a lamb, meet a Stockman on horseback, swing a billy, watch sheep dogs mustering the sheep – all the excitement of a true blue Aussie farm! Finish off the day with a visit to a chocolate factory for tastings of chocolate, wine, chutneys and liqueurs. Having experienced a huge range of Australian Wildlife experiences and with a tummy full of yummy chocolate, you will be dropped back into Perth around 5:30pm.
Category: Best Sightseeings / Tickets and Pass
Price range: Au$189.00 ~ Au$189.00
We speak:
This page is available in English
Check availability or/and Book now >>>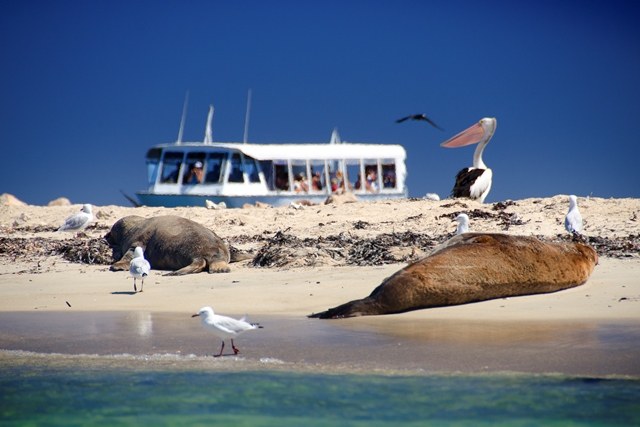 Manage this page
If you are the owner of this establishment/page/article, you can get access to a management and analytics dashboard, improve your rank and launch ads campaign. Update your page now>>>
How to find Ultimate Aussie Wildlife Tour
Where to meet? Tourist Coach stand on Wellington street outside of the main Perth Train station
An easy way to find his way - The Map
Customers and Users review