Turn Melbourne orange for Orangutans
October 4, 2016 - Corner of Swanston and Flinders Streets, Melbourne, Australia 3000
7250
18/20
Score and review left by our investigators or Insiders
Join Lehmo and Zoos Victoria CEO Jenny Gray on World Animal Day, Tuesday 4 October, as we turn Melbourne ORANGE for orangutans in support of the clear labelling of palm oil.
Orangutans are the largest tree-living mammals in the world. There are two species: the Bornean Orangutan (Pongo pygmaeus) and the Sumatran Orangutan (Pongo abelli). The Sumatran Orangutan has a narrower face and longer beard than the Bornean, which is darker in colour.
Some of Melbourne's best-loved venues are joining us in going ORANGE including the Melbourne Star Observation Wheel, the Ian Potter Museum of Art and Federation Square.
Please, come dressed wearing ORANGE and help us find 1,000 plush orangutans that will be hidden around Federation Square. Then hear about why labelling palm oil is so important to saving orangutans and add your signature to our petition!
Category: Events & Entertainments
We speak:
This page is available in English | French
Visit at: http://www.zoo.org.au/melbourne/animals/sumatran-orang-utan
Follow: https://www.facebook.com/events/1763634433908560/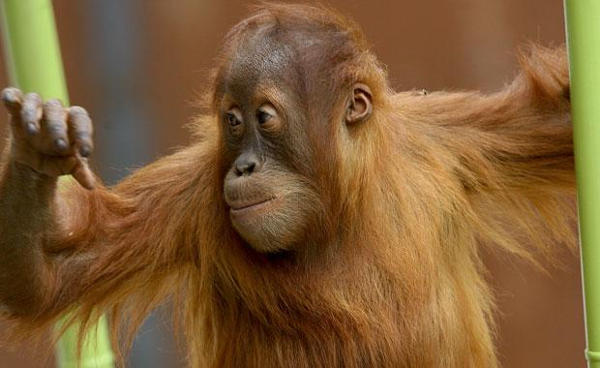 An interesting video to watch
Manage this page
If you are the owner of this establishment/page/article, you can get access to a management and analytics dashboard, improve your rank and launch ads campaign. Update your page now>>>
Megavina's review:
Turn Melbourne orange for Orangutans
Megavina's Insiders have met fantastic people during this event organized by Zoos Victoria.
Great venue, amazing people, very interesting
- by

Megavina Travel

- this event was the 4th of October 2016





What a great venue! We worried a bit because it was raining so the event has been moved to the Deakin Edge.

So many people wearing orange color, a warm atmosphere, happy people, this event was fantastic!
Our first question is: Did you find one of the 1,000 orangutans (plush) hidden in Federation Square?
Our second question is: Why to organize such an event?
We learned during this event many things, firstly that food manufacturers were still allowed to include palm oil as a vegetable oil on their labels such as Orea, Arnotts shapes, Nutella, Kellogg's Nutri-Grain, Woolworths Homebrand Apricot and museli...
Why is palm oil bad for orangutans?
Certain types of palm trees produce large red fruit which are rich with oil. After refining, this oil, known as palm oil, can be used to produce all sorts of products, including oils used in foods like chocolates and cookies, cosmetics like makeup, and even biodiesel, a fuel that can be used in cars instead of diesel (gasoline).
About 88% global palm oil production was in Malaysia and Indonesia in 2007. Although much of this production took place on land long ago established for agriculture, some of it occurred in areas that were newly cleared specifically for oil palm cultivation.
The most threatened ecosystems by expansion of oil palm plantations are rainforests and peatlands. Peatlands are swampy areas where the soils are made of peat — decomposed vegetation. Peat acts as a sponge, soaking up water and helping prevent floods. It also stores large amounts of carbon.
When peatlands are drained, the stored carbon reacts with air to release carbon dioxide into the atmosphere, increasing concentrations of the greenhouse gas. The dry peat then becomes highly flammable, increasing the risk of large-scale fires when plantation developers use fire to clear land and burn agricultural waste.
Greenhouse gas emissions also result when rainforest is cleared for oil palm plantations. Worse, oil palm plantations support very low levels of biodiversity, meaning most of the plants and animals once found in the rainforest must either move or perish. Oil palm plantations are not good for wildlife and endangered species like the orangutan, the Sumatran rhino, the pygmy elephant of Borneo, and the Sumatran tiger are all threatened by development for oil palm.
What can we do?
The first thing we can do is be aware of palm oil and its impact on the environment. Look at the labels of household products and packaged foods to see if they contain palm oil (however palm oil is often not labeled as an ingredient).
So you don't realize you may be contributing to the deaths of over 1,000 orangutans a year as their habitat, and that of Sumatran Elephants and Tigers is destroyed through unsustainable palm oil production.
We invite you to support palm oil labelling on all products! Please fill up this form on Zoos Victoria page >>>
How to find Turn Melbourne orange for Orangutans
This event is available at Federation Square - Corner of Swanston and Flinders Streets, Melbourne, Australia 3000 from 6pm to 8pm, the 4th of October 2016.
An easy way to find his way - The Map
Customers and Users review