Adelaide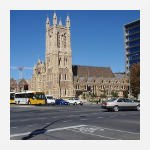 Travel from Adelaide to Melbourne along the country's breathtaking south-east coastline. A 1000km trip by car.
Adelaide has outgrown its reputation as a sleepy country town dotted with cathedrals and spires. The Adelaide of this millennium is infinitely more complex, with a large, multiethnic population and thriving urban art and music scenes supported by a "space activation program" that encourages pop-up shops, markets, performances, street food, mini festivals, art exhibitions, and other "off-the-cuff" experiences in the cities underutilized streets and public spaces.
Adelaide's rich arts and cultural heritage offers a must see collection of international, colonial, indigenous and modern artwork.
Gouger, O'Connell, and Rundle streets, along with the Norwood Parade and Glenelg neighborhoods, are the main eating strips. In any of these areas it's fun to stroll around until a restaurant or café takes your fancy. Chinatown is also lively, and if you feel like an alfresco picnic, pick some delicious local produce from Central Market.
What kind of hotels can you find in Adelaide?
Hilton, Hyatt, Sebel, Crowne Plaza, there's actually a wide choice of places to rest your head. Adelaide's accommodations are a mix of traditional mid-rise hotels, backpacker hostels, an abundance of self-contained apartments, and charming bed-and-breakfasts, many in century-old sandstone.
Top things to see during your stay in Adelaide
Adelaide Town Hall is an imposing building constructed in 1863 in Renaissance style, the Town Hall was modeled after buildings in Genoa and Florence. The zoo is the perfect place to meet rare animals while the Art Gallery of South Australia presents the famous painters without forgetting Coopers Brewery, Glenelg beach, Henley beach, Migration Museum...
This article is also available in French and Vietnamese
Number of results per page : 4 20 100